This is a familiar picture for all Ironman fans. Connected homes and Jarvis like assistant is something we were always fascinated about. After a lot of ifs and whys, we finally decided to get started on that project.
Following were our goals for the project
Home Security
Video Monitoring
Automated lights
Automation routines
Multiroom audio (Stretch)
Garage control
And some fun!
Standard home security providers
With these things in mind, we set out to see what were the market options available. When it came to home security, ADT, Reliance Protectron, Alarm force, and burglar stop were the obvious choices. But the problem with these were, they all had some kind of monthly fees and installation charges associated. Plus, we don't have the liberty of choosing the devices that will be installed in our premises. Monthly charges keep increasing with the feature set they provide. We had few fundamental issues with these solutions.
Monthly charges
No control over the devices installed
Customizations charges
Cannot interact with other devices
Cannot add automation routines and lights
No voice control
Smart home automation systems
This led us to search for people who do customize home automation. Another round of phone calls and quotes led us to Control 4, Orca Security, Kruinc, and Cambri homes(control 4 dealers again). Control 4 systems, for example, has a really impressive feature set. It straight away checked off my entire checklist and was able to offer more as well. Apart from providing a system that can interact with devices, they also provide a way to access the control system through your mobile devices.
Advantages
Highly customizable
Mobile access control
No monthly cost
Shortcomings
The control4 controller by itself can cost you around $1000
Devices costs are not included in the controller cost. So more the features more the cost again
Installation charge (but nominal)
Not compatible with industry smart home solutions
No voice control
DIY Smart Home System
Both the above-mentioned options had shortcomings which we were not able to live with. So we wanted to explore and bit more and we ended up with some really easy to do smart home systems.
Our smart home recipe had the following ingredients:
Samsung Smart Things - Home monitoring kit
Ring Video Doorbell
D-Link Night vision camera
Philips Hue Lights
Schlage/Kwikset Deadbolt Doorlock
All of the devices mentioned above are easy to install and there are plenty of video demonstrations available.
Let's get to details of why we chose these devices.
Connected Home
The core concept of connected home is that the devices have to interact with each other and there should be an automatable way control these devices. There are many smart home hubs available in the market: Apple HomeKit, Samsung SmartThings Hub, Wink Connected Home Hub, INSTEON Hub Pro, Belkin WeMo. They are predominantly the hub which can communicate and control devices in your home. The choice of hub purely depends on the devices compatible. We chose SmartThings mainly because of the range of supported devices and the fact that Google Home and Amazon Echo support Smart Things integration.
Stand alone Hub should cost you: USD 99 (Can find good deals on Amazon and best buy. You might be able to grab one at USD 88.)
Find the list of compatible devices here
Home Security
When it comes to home security, we were pretty sure that we want 24x7 video surveillance and the ability to have an eye from anywhere in the world. Being lazy couch potatoes, we wanted to take a look at who is at the door and maybe open the door using a mobile phone so that the amazon delivery can be left inside instead of leaving it on our doorstep. Going further, we might also trigger a 911 call if someone compromised the home locks or made an illicit entry to the house. This long requirement was broken down to feature list as follows:
Motion sensor
Door open/close sensor
Smart locks for the main door
Video door bell with 2 way audio and motion sensor
Thankfully, Smartthings home monitoring kit came with:
Smart things hub
1 motion sensor
2 multi-purpose sensors (contact sensors so can be used for door open close )
Smart plug
All these at USD 240 + Shipping to Canada + GST(CAD 35)
For smart locks, we choose the Schlage Connect ZWave Deadbolt. This came with programmable key codes, was compatible to be controlled with Smart Things hub(so I can lock and unlock the doors from smart things app), has an inbuilt alarm to trigger siren in case of compromised situations and most of all, was really easy to install.
This cost around CAD 200. You can also choose to buy this from the USA. For some reason, these smart home devices are tad bit costlier in Canada (even after the conversion rates).
For the main door bell video surveillance, we chose the Ring Video Doorbell. This is not compatible with Smart things, but there is nothing that I really want to control in the doorbell, so I can live with the compatibility issue. But this has really interesting feature set:
2-way audio communication
Motion sensor with stealth video and audio capture (this means we can capture whoever comes within a particular vicinity of the house)
Cloud Video recording with sharable links and video download options. This comes for 30-day free trial. Post which we need to pay additional USD 30 for the year subscription
Video answering on doorbell press.
Android/Apple apps support
Multi-user configuration
Chime configuration
Best of all, the company promises to replace the device if stolen!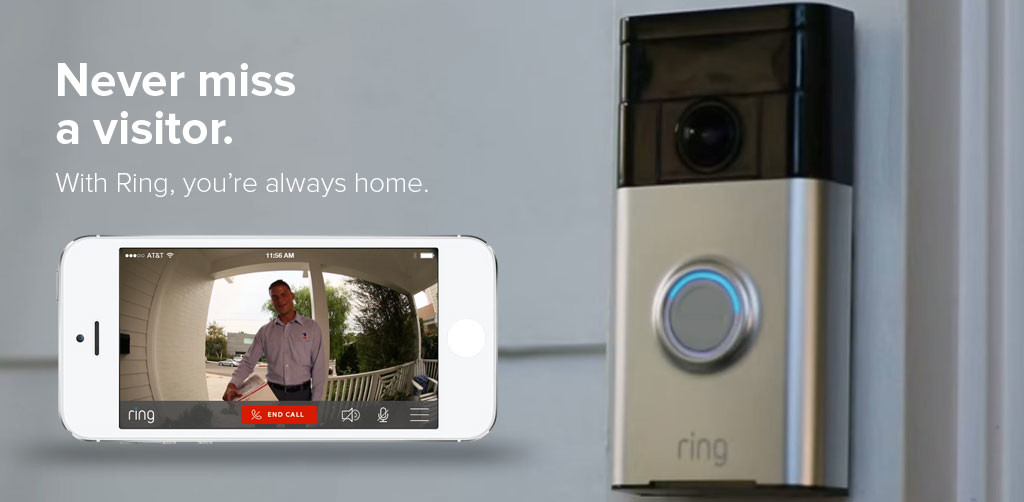 This cost around CAD 250(one time) + USD 30(yearly). They currently do not support third party cloud recording and no API support. Ring is IFTTT compatible, so we can log the events and customize actions.
Smartthings again is IFTTT compatible, so more customization options. IFTTT is a really valuable tool to explore. You can use it for any of your daily activities.
So this sophisticated home security section costs me around CAD 790 without any monthly fees and installation fees. Also, all of these devices can be easily relocated and reinstalled.
Automated routines
One best thing about smart things is that it provides automated routines where you can direct the hub to turn on an entrance light at 6PM, lock main door when it's time to sleep, switch on coffee machine at 6AM in the morning, etc.,
Automated Lights
Philips hue and LED light strips are all smart things compatible and you can program smart things to turn on light at a specific time and turn off when you leave the house, etc.,
Temperature sensor
All smart things devices have inbuilt temperature indicators and the hub works well with common thermostats like NEST.
Personalized setting
Smart things allow you to customize to the extent that, if my phone enters home area, turn these lights on, turn music on,etc.,
API Support and scope for additional devices
Smart things have an active users community and developers forum. Their APIs are available for new app development. Most of all, their compatible device list seems to be constantly growing.
Voice control
Both Google Home and Amazon Echo are Smart things compatible, so you can say "Alexa, turn my entrance light on!" or "Ok Google, lock my main door"!